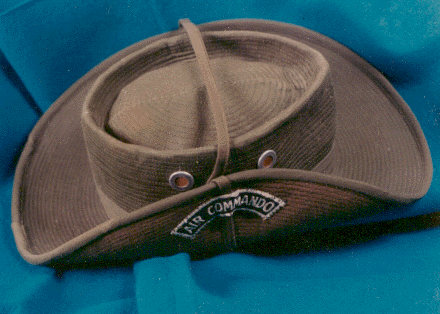 Air Commando BF Hat (Aussi)
Also know as the
FAC / TACP / ROMAD Official Uniform Hat.
History of the Air Commando Bush Hat
Used by the FAC, CFAC, & ROMAD's.
Col Robert Gleason, USAF Retired, commanded Det 2 at Bien Hoa Air Base after Gen King left in late 1961 or early 1962, provided me the following history of the Air Commando Hat in his 30 July 1996 letter.
"It first appeared (BF hat) on Commando's head during our first tour(1961) in SVN (South Vietnam). It was worn by several ARVIN (Army Republic of Vietnam) at the time. To the best of my recollection Arnie Tillmen and some of his people were the first to bring it into our group. At first there was some discussion as to whether it was proper USAF attire. The next day Col King showed up wearing one and the issue was settled.
Some time after Col King left we were visited by Admiral Sharp (CINCPAC) After I briefed him on our unit he turned to B/Gen Anthis (Commander 2nd ADVON) and told him that two things had to go stop immediately. One was our wearing those "crazy cowboy hats" and the other was our wearing side arms in the compound area. Although not even asked to comment on these subjects, I argued for the side arms and also for the "good morale" hats. Obviously I could advance a much stronger argument for the side arms than I could for the hats. Adm. Sharp backed off the gun order but reiterated his order that the hats must go. That night I sent a back channel message to Col King protesting the hat order. Within 24 hours I received a message sent through channels, including CINPAC, stating that this headgear has now been declared official USAF headgear for Commando units. It was signed by Curtis Lemay, C/S USAF. And that settled that issue."